I think this is the first time I've used speed lines in ANY of my work so far. And as we all know, all comic & manga artists are required to use speed lines at least once in their careers. No seriously, this is federal comic law. Look it up.
My latest actually has a reason today! In preparation for the first print volume of "Oh Goodie!", I have spent the day not only piecing together pages but also getting the cover ready! I present it in pencil form below for your amusement (click on it to see it full sized).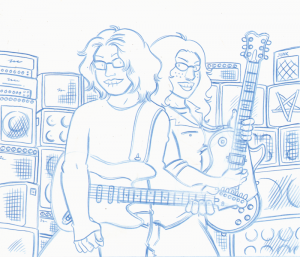 I also had my good friend and site co-founder Jeff Chow dropped off all the original "Oh Goodie!" comics from the high school run off his hard drive. You might be seeing a bit of this in the book too, but not much of it. Aside from it being low resolution, it's also VERY low quality even by high school standards. You ever reach a certain age and think you know everything then look back and realize you clearly didn't? Yea, that was me with both my writing AND my humor.
Then again that falls under what a friend of mine calls the "High School Dipshit" law, which means you're forgiven for acting like a dipshit when you were a teenager because we all acted like dipshits at that age. The trick to that law though is you vow not to act like a dipshit as an adult. Sadly most people seem to forget that second part.